Arts - Engaging with the world through Drama, Visual Art, and Music.
Sinclair has one of the largest Arts Departments in Durham where we offer students the chance to study a variety of Art forms including, Drama, Visual Art, Photography, Digital Art, Band, Guitar, Voice, and Piano. On top of the classroom choices, we provide a multitude of co-curricular activities to further engage students in their creative pursuits. Trips, performances, and festival competitions outside of school are all a standard part of the experience in all streams.
Students are free to choose the art forms that most interest them and can begin their studies in grade 9, all the way through to grade 12 in almost every stream. Daily lessons always provide choice to allow students to share their own stories in a framework that provides positive growth. The use of technology is balanced with the importance of interacting with peers, and instruments, in order to provide a well-rounded education. Many students find the more creative and fluid environment offered by the Arts classroom to be an enjoyable change to the standard classroom.
Business and Computer Studies
Canadian and World Studies
https://sites.google.com/ddsb.ca/sinclairsscws/home
Cooperative Education - Experience your future and explore opportunities outside of Sinclair.
Co-operative Education has a two-pronged focus: readying students for the transition from school to the world of work and preliminary career exploration for college and university bound students.

Preparation for the Future​

Sinclair's Co-op students graduate into many different areas: into permanent jobs, into college enrolment, into apprenticeship internships, as well as onto university campuses. The programme offers a taste of almost every career from aviation technology to zoology. Students who bring new possibilities are welcomed.
Modern Languages - Promote and encourage cultural, linguistic, and personal enrichment through the experience of speaking, listening, reading, and writing in French and Spanish.
Students participate in a wide variety of cultural activities which enhance their learning.
The beauty of studying languages and related cultures is that it opens your eyes to a myriad of possibilities. In our global society, with it's intricate communications system, the more languages you speak, the more opportunities are open to you!
English - Nurturing critical thinking skills and an understanding of human nature through the study of literature.
Through the study of classic literature and other forms of writing such as poems, essays, and plays, students become familiar with common themes, symbols, and styles in great writing.
Beginning in Grade 9, students are taught the basics of good writing so that by the Grade 12 level, structure and style should be in place and they can concentrate on depth of analysis.
A solid grounding in writing and analysis of literature will prepare students for success in life. However, specifically, the study of English could easily lead to careers in journalism, media, education, public relations, and business.
Guidance - Supporting students educational, personal and career needs.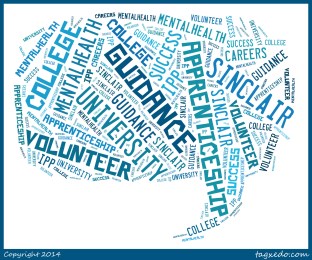 Student Services is an area where people can come to discuss educational, personal and career concerns. The main purpose of our Student Services Department is to counsel students in making informed decisions about their lifestyles and career goals.
Counsellors will assist students in understanding themselves and their relationships with others in our ever-changing society. Counsellors work with students to set goals, determine priorities and evaluate their unique educational, vocational and personal objectives. This helps students in understanding their present situation more clearly and in establishing action plans to accomplish their objectives.
Student Services provides a wide range of materials about careers, the world of work, and post-secondary institutions such as Colleges of Applied Arts and Technology, and Universities.
Health and Physical Education
Library - Create. Discover. Read. Grow.
https://sinclairss.ddsb.ca/en/library-learning-commons/sinclair-library-learning-commons.aspx
Mathematics
Math Support:
https://www.edugains.ca/newsite/math/index.html http://www.ontariomathedresources.ca/
https://app.knowledgehook.com/app/Login https://www.explorelearning.com/
https://www.desmos.com/ https://www.purplemath.com/
https://www.mathway.com/Algebra https://courseware.cemc.uwaterloo.ca/
Science
Social Sciences and Humanities - Understanding the forces that shape us as individuals in a social world.
How can we understand ourselves better? How can we learn to understand others? These are the questions most people ask themselves at one time or another. Social scientists, who also ask these important questions, are committed to finding the answers. Taking a course in the Social Sciences and Humanities will provide ideas and methods for understanding the forces that shape us as individuals in a social world. The central question you can keep in mind is: How can equity studies, family studies, world religions and anthropology, psychology and sociology help us understand ourselves as individual human beings and as members of society?
Special Education
Technological Education